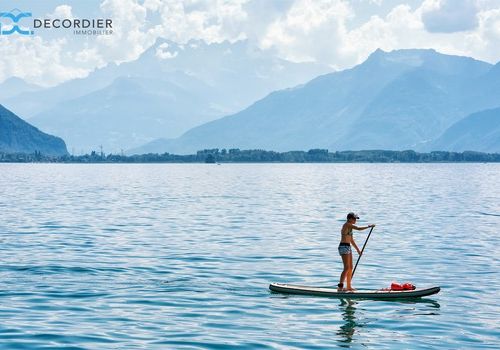 If you consider settling down by the shores of Lake Geneva or just to spend here some holidays, know that you have very little chance to get bored. The region offers numerous activities regardless of the age, in both summer and winter, on the water or in the mountains.

What kind of sport can be practised by Lake Geneva?

Are you an adrenaline addict or keen on breath-taking landscapes? Get yourself good hiking shoes and go onto exceptional hikes. There are plenty of tracks around. You will need quite some time before you would have explored them all!
Cycling is a common activity in the area, as well as horse riding. Yet, when winter comes, skis, snowshoes, snowboards and sleighs pulled by either horses or dogs get their turn to keep the fun going.
Of course, sailing around the lake is a must-do if you wish to discover it another way. Dipping and other water related activities are really sought after during the summer by the inhabitants and the tourists of the area. The most fearless can go paragliding to have a sight of the gorgeous landscapes from the sky.

Thermal spas

Need some quietness and to relax? The spas, of course the ones in Evian-les-Bains that are known world wide, as well as the ones in Thonon, attract every summer lots of tourist who look for wellness, will welcome you for an afternoon, a day or a longest stay.

Cultural activities

The area of Lake Geneva also has a very rich cultural life. The ones keen on history will gladly discover the forts and castles. The music's lovers will be thrilled by the famous Montreux Jazz Festival.

Regarding the museums and exhibitions, the inhabitants and visitors of the area will have their own share. The Musée du Leman, located in Nyon, in Switzerland, shows the exceptional wildlife and the flora of the region. In Thonon-les-Bains, the Chablais' Museum, located in the castle of Sonnaz offers along with the incredible permanent and temporary exhibitions a superb view on Lake Geneva and Jura mountains. The town also has a theatre and a memorial for the ones who sheltered Jews in the area during the Second World War.
In Evian-les-Bains, the magnificent Palais Lumière, a former spa, has become a cultural space that regularly welcomes exhibitions.
To put things short, no matter what your centres of interest or your wishes are, you will not fail to find activities to do in the area of Lake Geneva.
Do you wish to invest in Lake Geneva'a area to settle there or to have a place to go to? DE CORDIER IMMOBILIER guides you through all the steps to buy out your property, from its selection to the signing up of the deed. Do not hesitate to contact us.