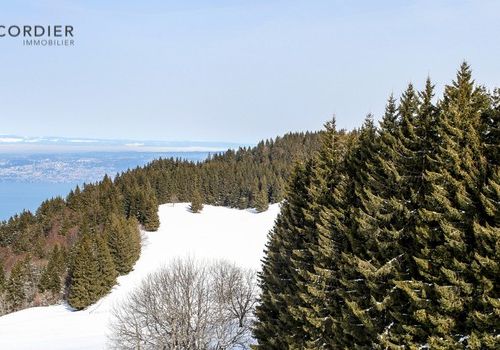 Superb regardless of the season, the Chablais is simply exceptional when winter comes and snow spreads its whiteness everywhere.

the Chablais' ski resorts

Winter sports' addicts come massively during the winter season to the Chablais' ski resorts. At only 15 minutes from Evian, Bernex and Thollon-les-Mémises welcome Alpine skiers, cross-country skiers, snowshoes and dog sleighs users to do memorable wandering in the wild.
A little further away, the french-swiss domain "Les Portes du Soleil", which gathers the resorts of Châtel, Morzine, Avoriaz, Le Gets, as well as Morgins, does not need any introduction, as it is world widely known.

Ice rinks in the Chablais

In Bernex, Châtel, Morzine or La Clusaz, the Chablais has many ice rinks, both in France and Switzerland. Ice skaters will find plenty enough places for variety.
Little and elder children have also numerous places to go for nice sledge tracks providing both long and sensational slides. Plenty enough to have hours of fun!
The Chablais during winter celebrations
Winter is also a period for celebrations in the Chablais. Inhabitants from Evian, and most particularly the children, await impatiently for December so they can visit the fabulous village that opens up every year around the Christmas period.
On the Swiss side, Montreux is worth the sight too with its Christmas market, its Christmas village or the medieval faery of Chatillon Castle.

Indoors activities

When the weather turns too cold, or too bad, and that the outdoors activities must be postponed, the Chablais also proposes indoors activities. The media library C.-F Ramuz, in Evian-les-Bains, is one of the most pleasant place to take shelter in. It is a former thermal building that has been reconverted into a cultural space divided into two areas: one dedicated to exhibitions and the other to the media library.
To relax during the bad weather, pay also a visit to the aquatic centre in Amphion-les-Bains and Châtel, among others. Of course, the spas in Evian and Thonon-les-Bains are exceptional places of well-being to shelter in during the winter season.
Do you have the project to settle down in the Chablais? DE CORDIER IMMOBILIER, a real estate office located in the very centre of Evian-les-Bains, accompanies you through all the stages to buy your future property in the Chablais. Do not hesitate to contact us, either by phone (+33 (0) 4 50 75 15 15) or by using our online request submission page.