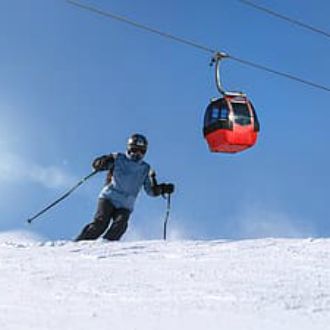 The winter season is here! It's time to take out the skis from the closet and to show some of the best acrobatic styles. Ah, Haute-Savoie and its snowy mountains! This region offers an extraordinary landscape and a thrilling altitude, perfect to practice skiing. Since it is winter holidays, many skiers flock to the stations. Here are some of the most famous ones.

At the La Plagne station
The snow did not prevent the cars from entering the La Plagne skiing station in a single file this week. The Office du Tourisme has pointed out that the station is filled at 60%. Finding a parking spot became a real headache for many. But most of them were determined to practice this sport that gets people flying, no matter what!

Much caution was however required, since snow means a risk of an avalanche. The drivers therefore have protected their car tyres with chains. They were also able to rely on the support of a municipal policeman who was on the spot. In addition to keeping visitors safe and handling the traffic, he found the time to help the drivers. Hats off!

The village-station of Thollon-les-Memises
How would you like a ski station which serves as a "balcony over the Léman"? Indeed, this is the title that the Michelin guide has attributed to the station of Thollon-les-Memises. Its slopes are 50 kilometres long. Those who are near to have full control over the art of skiing will be happy to know that the station has got 7 red slopes for them. Professionals will be able to enjoy 4 black slopes. Beginners should not be discouraged though, since the station has 3 blue slopes available. The skiing area is open from the 21st of December 2019 to the 29th of March 2020.

Les Portes du Soleil
Skiers will extend their aspirations with Les Portes du Soleil! This ski area in the Chablais boasts itself as being one of the biggest ski areas in the world. It includes some 12 stations which are found in towns in France and Switzerland (Les Gets, Morzine, Champéry, Vionnaz, as well as others). Visiting Les Portes du Soleil above all means 600 kilometres of ski slopes!

With around thirty black slopes for experts and more than one hundred for beginners and intermediary levels respectively, there is much gliding to do! Those who love speed will be elated to know that an even more thrilling activity is available at this station: Speed-Riding. This sport combines paragliding and skiing. It allows to not only perform leaps and breath-taking stunts, but also allows skiers to reach spots which cannot be reached while skiing.

Sport practice is bound to make one feel hungry. You can choose between not ten but about a hundred – 99 to be exact – restaurants to please your palate. Moreover, if rock is a music style you like, then you would not want to miss the "Rock the Pistes Festival". Famous artists such as Shaka Ponk, Skip the Use and Rag'n bone man, perform in concerts to the excitement of fans on the ski slopes.