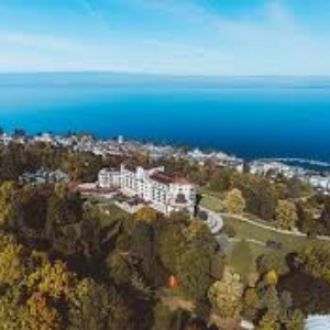 Most people will tell you that the best way to find yourself or find a buyer for a property without getting conned is through the services of a reputable real estate agency instead of a broker.
Do you want to buy, rent or sell a house, apartment, land or invest in a new development programme in Evian-Les-Bains? Rely on a true real estate transaction expert: the DECORDIER immobilier agency.

Why live in Evian-Les-Bains?
Evian-Les-Bains is a city that does not have to be introduced anymore. Popular thanks to its mineral water, it exudes well-being. It is the ideal place for a peaceful life after retirement. Settling down in Evian means enjoying an exceptional setting, with a magnificent view of the Leman Lake. Strolls on the quay are a sure way to take good care of your health. The town has also been awarded the "Famille Plus" label, and it is not for no reason.

The town has undergone some changes to improve the daily lives of its inhabitants over the years and is set to undergo more, such as the launch of the Léman Express, the largest regional express network in Europe, and the renovation project of the Evian quays, which includes the creation of a public space of some 20,000 square metres, the construction of a parking area under the casino and the extension of the lake station.

And let's not forget that the town is transformed into a magical universe during the winter holidays much to the delight of children and adults alike, with attractions such as the fabulous village of Les Flottins. The proximity between Evian-Les-Bains and the Alps only makes the former even more attractive to ski lovers.

A real estate investment in Evian-Les-Bains is therefore highly profitable. You may think that because of all these positive aspects, it is difficult to find a place to live there. DECORDIER immobilier proves you wrong. Thanks to our extensive network, we are able to present our clients with exclusive real estate offers in this area.

Why trust DECORDIER immobilier agency ?
DECORDIER immobilier represents first of all 15 years of service in real estate, a large number of satisfied customers, and many successfully sold properties. Our professionalism and our attentive ear to the needs of our clients has earned us an average of 4.9 out of 5 on Google reviews. You can read them here. With your DECORDIER immobilier agency in Evian-Les-Bains, rest assured that your real estate project will not only be yours, but also ours. We put all of our know-how at your service in order to assist you as effectively as we can.

Whether you are looking for a house, a tenant or a buyer for your residence, do not hesitate to call us or to visit us. From the publication of your sale or rental advertisement to the negotiation, we will accompany you through all the steps. You can also make the most of a free appraisal of your property; this step contributes greatly to the sale process.

In order to keep you informed, you will also find news about Evian and the Haute-Savoie region on our website. Our agents are at your disposal for any information or advice you may need on +33 (0)4 50 75 15 15.