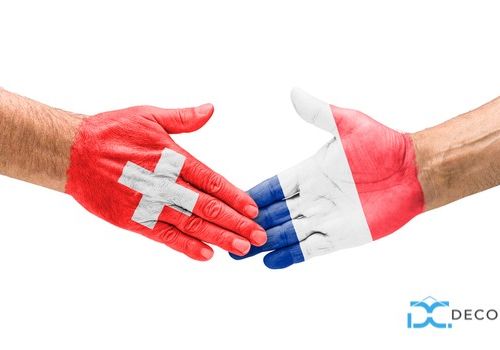 6 good reasons to become a frontier in Switzerland

Several tens of thousands of French residents have chosen to work in Switzerland while staying in France. Why are so many to become frontier? Back on the benefits of this privileged status.

1. The Swiss labor market more flourishing than the French market

While France remains hit by a high unemployment rate, the Swiss labor market is in good shape. The unemployment rate in Switzerland remains very low indeed. It is also one of the lowest in the world. It was only 3% last June, compared to 3.1 in May. A drop that affects both young workers and those over 50.

In France, the unemployment rate fell below 10% last April, reaching 9.5% of the active population in the second quarter of 2017.

Swiss companies are looking for qualified profiles, particularly in the IT, consulting, healthcare and banking sectors. That is why one in four workers is a foreigner in Switzerland.

2. Swiss wages far higher than French wages

Another important advantage when one decides to work in Switzerland, the wages that are practiced there. The Swiss have indeed much higher wages than the French. The average Swiss net salary is 3000 euros, which in France is equivalent to the salary of an average executive, not to mention the benefits in kind offered to employees, such as the company car.

What's more, Swiss workers enjoy greater job security with a fixed-term contract rate of only 6%, compared to 7.8% in France. In addition, the possibilities of evolution are more numerous, and especially faster. Only downside: the time of work. It is 42 hours weekly in Switzerland and paid holidays are reduced to 4 weeks against the 5 French.


3. Take advantage of the cheaper real estate market in France than in Switzerland

Working in Switzerland while living in France means being able to enjoy a high salary while renting or buying a cheaper home than in Switzerland. Because Swiss wages go hand in hand with a very high real estate price. It is more interesting to buy a house or an apartment in France than in Switzerland.

Many properties are available for sale in very attractive municipalities such as Thonon-les-Bains, Evian-les-Bains, Publish, Maxilly-sur-Leman or Neuvecelle. Feel free to check our listings of houses and flats for sale in Chablais. In Haute-Savoie, the price of m² averages 3718 euros for an apartment and 3442 euros for a house. If the region attracts more and more workers and investors, the prices are still interesting. Many new programs are also under construction in the Chablais region, to avoid a surge in prices.

4. Contribute for retirement and choose your health insurance in France

French people working in Switzerland have the possibility of continuing to contribute for their retirement in France. The bilateral agreements concluded between France and Switzerland are in fact particularly advantageous for French frontier workers.

A Frenchman working in Switzerland must take out health insurance but he has the choice of this insurance. He can thus choose the Swiss regime, the Amal, or the French health insurance, the CMU.

5. An exceptional environmental framework

Let's not neglect the importance of the environment. The border region is a region of mountains and lakes with sublime landscapes.

The Lake Geneva region is as pleasant to live in summer as it is in winter, offering plenty of activities and activities throughout the year.

6. Particularly interesting tax benefits

Of course, there are also well-known tax benefits offered by the status of cross-border. These are however subject to:

- The frontier worker must be present at least once a week in his French home.
- The frontier worker must have a work permit issued by the canton in which his company is located.

It is important to remember that taxation varies according to the canton in which the Swiss cross-border worker works. For example, if you work in the cantons of Geneva, Zurich or Aargau, your taxes will be deducted at source, in Switzerland. And if you will have to make a declaration of income in France, you will not be liable for the tax on these incomes. Border workers in the cantons of Valais, Vaud, Basle or Neuchâtel must declare their income in France and pay income tax in France.

Note also that an average exchange rate is set each year to facilitate reporting by French residents working in Switzerland. This year, this rate is 0.93 euros for 1 CHF.