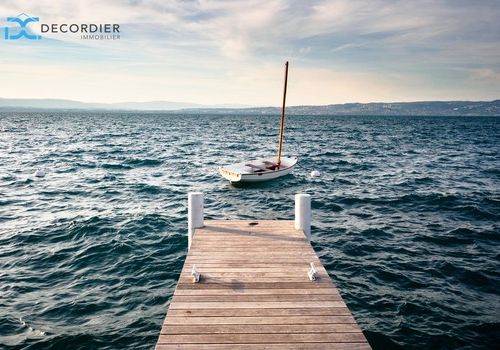 Lake Geneva: a magnificent setting with authentic charm

Do you dream of finding your little paradise for escape on weekends or during your holidays ? The shores of Lake Geneva are waiting for you! Its crystalline waters, its small coastal villages with preserved charm, its numerous spas will delight you. High resort for many French and foreign, Haute-Savoie combines the charm of the mountains with the calm of its lakes.
In winter, the proximity of major ski resorts such as Chamonix, Megève, Saint-Gervais or Morzine, will allow you to indulge in your favorite winter sports through extensive ski areas.
In summer, the nautical resorts of Lake Geneva will offer many activities. You can also enjoy the beautiful walks of the region, surrounded by breathtaking landscapes.
And what better than a day in a spa, in Evian or Thonon for example, to relax and relax ? Famous all over the world, the waters of these hot springs will surprise you with their soothing and beneficent virtues.
Between relaxation, well-being and sports activities, you will be spoiled for choice for the whole family !
Haute-Savoie: a rich and dynamic region
By buying a second home on the shores of Lake Geneva, you will discover, or rediscover, a rich and dynamic region. The proximity of major cities like Annecy, Thonon-les-Bains or Geneva, which is only a few kilometers from the border, will allow you to enjoy the benefits of attractive urban centers: shopping, various cultural activities for young and old. the biggest, festivals ...
Real estate in Haute-Savoie has been booming in recent years, confirming the attractiveness of the region, but the context remains favorable, unlike other regions where prices began to increase. By buying your second home on the shores of Lake Geneva, whether it is an apartment or a house, you will realize a life project that is important to you, but also a thoughtful and sustainable investment.
The team of our real estate agency, located in Evian-les-Bains, is at your disposal to make you discover, or rediscover, this beautiful region of Lake Geneva with many assets and many facets. We will help you find the second home of your dreams!