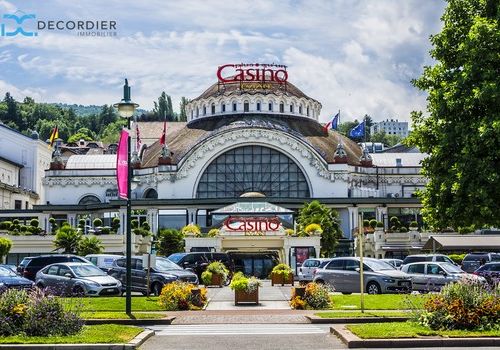 From a chalet to a castle : back to the history of the Casino d'Evian

The end of the 19th century and the beginning of the 20th mark the golden age of thermalism in Europe. Now famous for its waters with healing virtues beyond its borders, the city of Evian-les-Bains welcomes the aristocracy and the upper bourgeoisie from all over Europe. To entertain this wealthy and socialite clientele, the city launched numerous projects : theatre, concerts, golf courses... The creation of the Casino d'Evian is part of this dynamic.
Initially, the "play house" was set up in a small cottage on the outskirts of town. But this did not correspond to the great ideas of the mayor of the time, Baron Louis Ennemont de Blonay. In 1877, the Baron bequeathed his family castle to the town to set up a Casino worthy of his clientele. The castle of Blonay, ideally located in front of the lake, offers an exceptional view that charms all visitors. It is then gradually developed in a grandiose way, with the addition of a Byzantine style dome that stands out from the rest of the city's architecture in 1911.


A casino for all players and all events

With its 234 slot machines (video poker, roller machines...), its 18 electronic reels and its 10 table games (French and English roulette, black jack, poker), the Casino d'Evian will seduce and entertain all types of players, from the most serious to the most casual.
The Casino also has numerous restaurants and bars, as well as private lounges for events such as seminars, weddings, cocktails... It is also possible to reserve the Casino's magnificent theatre for sold-out performances, awards ceremonies and shows. The unique setting that the Casino offers only makes the evenings more successful.
The Casino d'Évian-les-Bains was born from the vision of a great city and is still a must for all visitors today. Whether to enjoy these many games and an atmosphere worthy of a James Bond movie for an evening, or simply to admire its unique and audacious architecture, the breathtaking view of Lake Geneva from the gardens, the Casino d'Evian will not leave you indifferent.