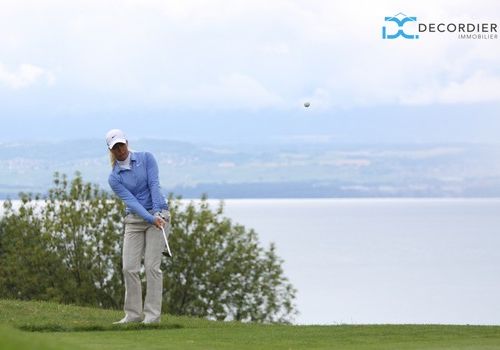 The golf of Evian: a whole history !

The Société des Eaux Minérales d'Evian acquired land near the town at the beginning of the 20th century. She had a 9-hole golf course built there for the leisure activities of the future guests of the Royal Hotel, which was then under construction. Golf was inaugurated with great fanfare in 1904.
Faced with the success of this golf course located at an altitude of 500 metres with breathtaking views over Lake Geneva, the Alpine peaks and the city of Lausanne, the course was extended to 18 holes in 1922.
In the 1980s, the course was completely renovated with a view to organising the now mythical Evian Master, which in 2012-2013 became the fifth Major, the only female Major in Continental Europe : the Evian Championship.
Following the success of this international women's tournament, the golf course will be modified and redesigned many times until 2012. The Academy, an official training centre for the tournament's professional players, was inaugurated in 2006.


The Evian Championship : a mythical tournament that hosts the world's greatest golfers every year

The Evian Championship, the last of the major tournaments in the women's golf round, closes the season and takes place in September, after the Ana Inspiration, LPGA Championship, American Open and British Open. This year, the tournament will be held from September 13 to 16, 2018 and will be followed by competitions reserved for the youngest golfers.
On September 18 and 19, 2018, the Evian Championship Juniors Cup will bring together the best golfers under the age of 14 representing 18 nations.
And to close the festivities, the Haribo Kids Cup will be played from September 21 to 23, 2018 by the best golfers aged 8 to 12, selected in France, Belgium and Switzerland.


The golf of Evian: a superb course open to all !

It is not necessary to be a professional player to come and hit balls on the magnificent golf course of Evian. Outside international competitions, golf is of course open to everyone !
This 18-hole course, located on the shores of Lake Geneva, at the foot of the Alps, offers exceptional views at each hole, which everyone can enjoy at their own pace. Everyone agrees that the golf of Evian is one of the most beautiful courses in France.
Thanks to this ideal location, you will also have access to all the advantages of the city of Evian-les-Bains, such as its thermal baths or its Casino, to fully enjoy your stay.