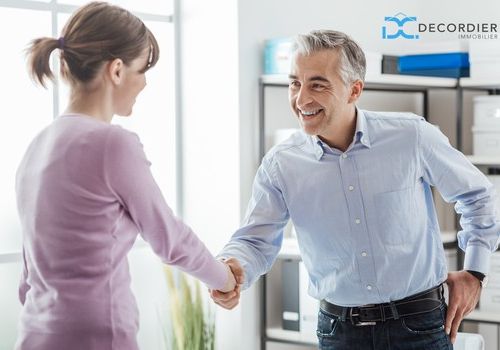 Being a real estate agent is a very demanding and not always easy activity ! Contrary to the false image that one can have of the professional sitting behind his desk, waiting for the client to push the door of his agency, a real estate agent has multiple hats and has busy days.


Real estate agent: a multifaceted profession

Specialist of his market and his region, carrier of the project of his customers, professional in communication and marketing, negotiator and mediator... the real estate agent must have more than one string to his bow to succeed in his trade. In Évian-les-Bains, a town in Haute-Savoie on the shores of Lake Geneva where life is good, De Cordier Immobilier's team works daily to support its clients in the realisation of their project to sell or buy an apartment or a house.

"You have to be seen to be known"

As Didier De Cordier explains, it is not enough to have a beautiful downtown agency with a well-stocked window. Ensuring the agency's visibility is one of the real estate agents' daily tasks. All ideas, especially the most original, are good to achieve this ! Distribution of leaflets in letterboxes, pens, posters, parasols on behalf of the agency on the shores of Lake Geneva and the terraces of cafés... The real estate agent must go daily to meet his future clients, whether they are buyers or sellers.

"We look every day at what's new on the market"

As an expert in his market, real estate agents must be on the lookout for all the new offers that appear every day. Real estate ads in local newspapers, real estate ad sites..., all media must be reviewed. Once this monitoring is done, the agent can contact the new vendors to discuss their project and offer them his services.

"We need to create quality relationships with our customers"

Real estate agents must build and maintain their client portfolios. As Didier De Cordier explains, word of mouth must not be neglected, even in the age of new technologies. Real estate agents must not just look at ads on the Internet, but must meet their clients, go door-to-door to get to know themselves and their future clients.


To be a real estate agent is above all to be a trusted interlocutor

Selling or buying a house or apartment is always an important moment in an individual's life. It is a personal project, unique, and the real estate agent must accompany his client at each step, be able to answer his questions and concerns.

"We accompany our clients at every step of the sale of their house or apartment in Evian."

Once the sale mandate signed, the real estate agent takes care of all the steps for his client, and accompanies him at each step, until the signature of the final deed of sale. He proceeds to the fair and objective estimation of the property, writes the advertisement which he will put on line on his site, with photographs and virtual visit, and in window of his agency, and places the panel "for sale" so that it is visible by the passers-by. By using the customer portfolio that he conscientiously keeps up to date, the agent can contact some of his customers buyers who may be interested in this new property and proceeds to the visits.
The real estate agent regularly keeps the seller informed of the situation: number of visits, number of people who may be interested, etc. He also shares with the client any comments the visitors may have made to help him showcase his apartment or house.

"We must listen to our customers to understand their purchasing project and help them realize it".

When an individual is looking to buy an apartment or a house in Evian-les-Bains, the real estate agent takes the time to discuss with him the details of his project, even the most insignificant. Together, they thus define precisely the needs and desires of the future buyer : budget, geographical situation, needs and specific desires (garage, garden, view...).

Expert in his market and his region, the real estate agent must help the client to define a project "in phase with reality". In this way, the agent can propose to his client visits of goods corresponding to his expectations, thus privileging quality over quantity.
Didier De Cordier explains that it takes up to three months to sell a house or apartment in Evian. According to him, when price negotiations are entered into between the seller and the buyer he has put in contact, the real estate agent must act as mediator. The real estate agent is at the service of both parties and must ensure a fair price that is realistic and acceptable to both. "This requires essential human qualities to reach the conclusion of the sale in satisfactory conditions for everyone", specifies the director of the agency De Cordier Immobilier.


To be a real estate agent in Évian-les-Bains is above all to love the region

Each member of the De Cordier Immobilier team is based in the Evian region. For greater efficiency, the area of Evian-les-Bains and its surrounding region is divided into 4 sectors : each employee of the agency is responsible for his sector and therefore expert on his market.
"Who better than a real estate agent living in the area can advise newcomers seeking to settle in or around the city ? " Didier De Cordier rightly points out.

You wish to buy an apartment or a house in Evian les Bains, for your main residence or a second residence ? You wish to make a profitable and risk-free rental investment ? The De Cordier Immobilier agency team are is your disposal to accompany you through all steps of your real estate project in Evian and its region ! Do not hesitate to contact us or visit us at our agency !