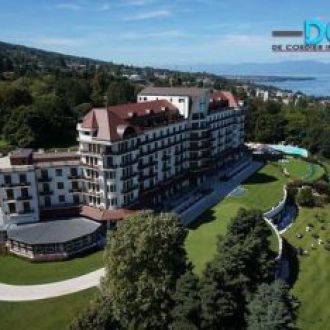 Hôtel Royal : a look back at the history of the most beautiful hotel in the world

At the beginning of the 20th century, the golden age of thermalism in Europe, the city of Evian saw the influx of aristocracy and upper bourgeoisie from all over Europe. To welcome this prestigious clientele who have come to enjoy the virtues of the city's waters, the Société des Eaux Minérales d'Evian is building a luxury hotel with the aim of making it the most beautiful in the world. Even before its inauguration in 1909, King Edward VII of England gave it a follow-up, thus giving his name to the establishment.

The Hôtel Royal spans the 20th century and remains a place steeped in history that has welcomed many celebrities. Crowned heads, writers, politicians and film or music stars follow one another in the luxurious suites of this mythical hotel.
Located in the heart of a magnificent park hosting the Evian Resort hotel complex, overlooking Lake Geneva, the hotel enjoys an ideal location that offers calm and serenity to its visitors. Belonging since 1970 to the Danone group that acquired the Société des Eaux Minérales d'Evian, the hotel has managed to retain its character and adapt to an ever more demanding clientele. Ultimate recognition : the Hôtel Royal was awarded the status of a 5-star Palace in 2016.


Hôtel Royal d'Evian : a unique establishment with many assets

By staying at the Hôtel Royal in Evian-les-Bains, the jewel of the Evian Resort, you can choose between sports, wellness and entertainment.
Ideally located not far from the legendary Evian golf course, the establishment welcomes many golf enthusiasts, whether they are professionals at tournaments such as the Evian Championship, or just amateurs.
Since 1982, the hotel has had its own Spa, which offers its visitors a wide range of treatments : beauty, well-being and relaxation are particularly emphasized.
With one Michelin star, the gourmet restaurant Les Fresques, located in the heart of the hotel and enjoying a breathtaking view of Lake Geneva, welcomes its guests in a luxurious setting to discover dishes of great finesse.
Thanks to the La Grange au Lac and Casino d'Evian auditorium, also belonging to the Evian Resort, visitors to Hôtel Royal can enjoy a wide range of cultural events all year round : classical music concerts, chamber orchestras, operatic performances, jazz festivals, theatre, etc.